International Border Testing Pilot Program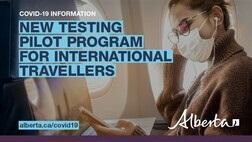 Recently schools have been receiving questions in regards to families traveling and students returning back to school as part of the International Border Testing Pilot Program at Calgary International Airport. Please refer to this Alberta Government webpage for more information. We would like to highlight a specific section of this program in regard to participants being prohibited from certain settings during the course of the pilot.
The section below refers to school and child care and states:
"Child care programs (for example daycare, out of school care), K to 12 schools and post-secondary institutions - attendees, students in schools and staff who work in these settings cannot go back to these settings until they have their second test and have received a negative result."
Participants in this pilot are required to undergo a second test on day 6 or 7 after returning to Alberta. This means that children and staff members will not be allowed back into a school until after they provide a second negative test result, which given these timelines will be a minimum of seven days from the time that participants are back in Alberta.